High Street Agent's Are Still Awesome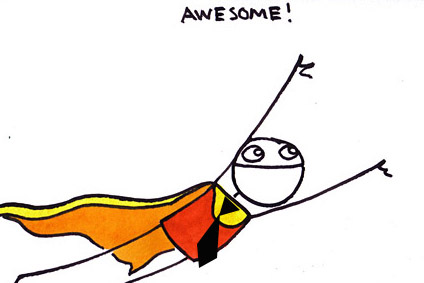 Before running away with myself and spurting off about why high street letting agents are better than online portals, I think it's best to have a look at a number of perceptions of agents to try to establish why some landlords loathe to use them.
As the new kids on the block we did a lot of research into this in order to establish our vision and mission, define our values and come up with some serious product and service differences.
The top five perceptions of agents (or should I say, bottom five)
1. Agents are no value – they do nothing for a large fee.
2. They are greedy and selfish, not always working in the landlord's best interest.
3. They can be pushy – forcing decisions onto landlords without giving all the relevant data for the client to make an informed choice.
4. There can be a distinct lack of communication.
5. They are cowboys, anyone can become a letting agent, it doesn't take any specific training, qualification or experience.
Why many High Street agents are better than online portals…
If all that were true of every agent then it is no wonder that landlords would think that it's better to advertise their property themselves, download a tenancy agreement from the Internet and deal with any management issues.
In giving the reasons why many High Street agents are better than online portals I am also giving you a definitive wish list for choosing your agent because if they're not doing most of the things on the list it doesn't matter if they value your property at ten or fifty pounds per week higher than the previous agent; you may lose out in the long term.
1. Marketing Properties
The majority of people looking for property will go firstly to the internet, often to the biggest, most well known sites but, according to research, once the applicant has shortlisted the agents from the properties on-line they will visit them and often, other agents in the area. Most high streets have more than one agency.
High street agents often advertise in local press and property magazines with large, often, colour photographs. The advertisements range from half page to multi-page advertisements.
High street agents have high quality, highly visible boards.
High street agents have well lit, highly visible window displays.
Many good agents will build up a good network of nationwide agents and offer properties on a split commission basis.
High street agents have a pool of registered applicants.
High street agents will produce good quality floorplans included in their fee.
Many high street (even independent) letting agents have a large coverage area. This is more appealing to applicants, gives the landlord with multiple properties one point of contact, consistent reporting and billing.
2. Viewings, Negotiations & Advice
A good, experienced agent knows how to pre-quality applicants to reduce time wasters and ensure the right calibre of tenant for the property and that they can afford it.
The agent accompanies viewings – applicants are more likely to give honest feedback to the agent than to the landlord. It also gives added security for the landlord.
Viewings can be carried out at times to suit all parties.
Good negotiators will ensure the property is correctly valued and will work to ensure the best deal for the landlord, not the easiest deal for his/her commission.
The negotiator will start the relationship between landlord and tenant, helping the applicant through the process, referencing, contractual issues and any other niggly bits. As long as they do so in an honest and transparent manner (not sweeping anything under the carpet) they will build the confidence at the outset. The agent is the face of the landlord.
Any agent worth their salt will be able to give advice on market conditions. They also have the ability and tools to be able to advise you on any future investment purchase. They know what's in demand.
They know the local area, the schools that people want to be close to, the transport links, the shops, the roadsÔǪ.everything. (In fact I think I have given more directions in my time working in agencies than I did when I worked in a cab office; that's saying something!)
3. Legalities & Agreements
A good agent will deal with all the legally compliant issues such as EPC's, deposit protection and agreements.
On the subject of agreements, many criticisms of agents is that they use a template agreement – This is often the case if there are no specially negotiated clauses, however a good agent should know their agreements inside out, will know which agreement to use in which circumstances, what to point out to the tenants – such as the deposit clauses (This is what you have to do if you want to get your deposit back in full!!) and how to confidently answer any queries – back to that trust building thing again.
Let's not forget the Distance Selling Regulations 2005 either. If you're issuing agreements by post the agreement can be canceled up to 14 days from the start date.
4. Communication & Feedback
As mentioned earlier, applicants are more likely to give honest and valuable feedback to an agent but what about feedback from the marketing?
You agent should be providing regular feedback, however it suits you best, most of it available from web statistics and their own KPI's. Again, this doubles up to allow the landlord make informed choices.
5. Training & Accreditation
And finally, yes, there are agents that are cowboys, that aren't trained but increasingly more and more are fixing it, realising that if they don't do something the heavy hand of the Government and even more red tape will descend. The National Federation of Property Professionals is not giving away accreditation lightly nowadays. To become a new member of ARLA there is a minimum qualification of the Technical Award in Residential Lettings and Management. With membership comes a requirement for adherence to their code of conduct, proof of insurance, client money bonding, audits and lifelong learning. The tenancy agreement you are using this year may not fit next year, ARLA members' tenancy agreement will.
You can check out ARLA members on their website www.arla.co.uk – just because some agents say they are ARLA trained does not mean they are accredited.

Time is more valuable than money. You can get more money but you cannot get more time – Jim Rohn (Motivational Speaker and Author)

Employing a good agent will save you both time and money. Just make sure they can do their job and do it properly. Take a couple of hours in drawing up your shortlist of agents, make your choice then let them worry about the marketing, take the calls, deal with the emails, do the viewings and you can carry on with your life and listen to the offers.
Find your local landlord service
Select a category to find your required landlord service- it's just one click away.